(1) Manufacturing Experience
Glory Power Hygiene Products Ltd. is specialized in manufacturing high level, fashionable, safe and healthy feminine hygiene products for women for 29 years. All products are carried out with the standards of FDA, GOTS, CE, I S O 9 0 0 1, SGS ,ITS ,FSC,MSDS etc.
Our factory is garden-like modern plant which covers 60,000 square meters, equipped with auto high speed technologically advanced production lines, all the devices equipped in high level ensure every pad we produce completely safe, hygienic and high quality. Quality control runs strictly throughout all the links from raw material to finished products.
Cooperated/Cooperating with Woolworth, Coles, Mannings, Waston's, Walmart, Carrefour, Shoprite, Tescoetc.
(2) Pad Collection
We have extensive items of pads and dozens of cover to choose from, or our expert engineer can customize any formulas or shapes of pads for you. No matter your order quantity is large or small, Glory Power is the company ready to supply.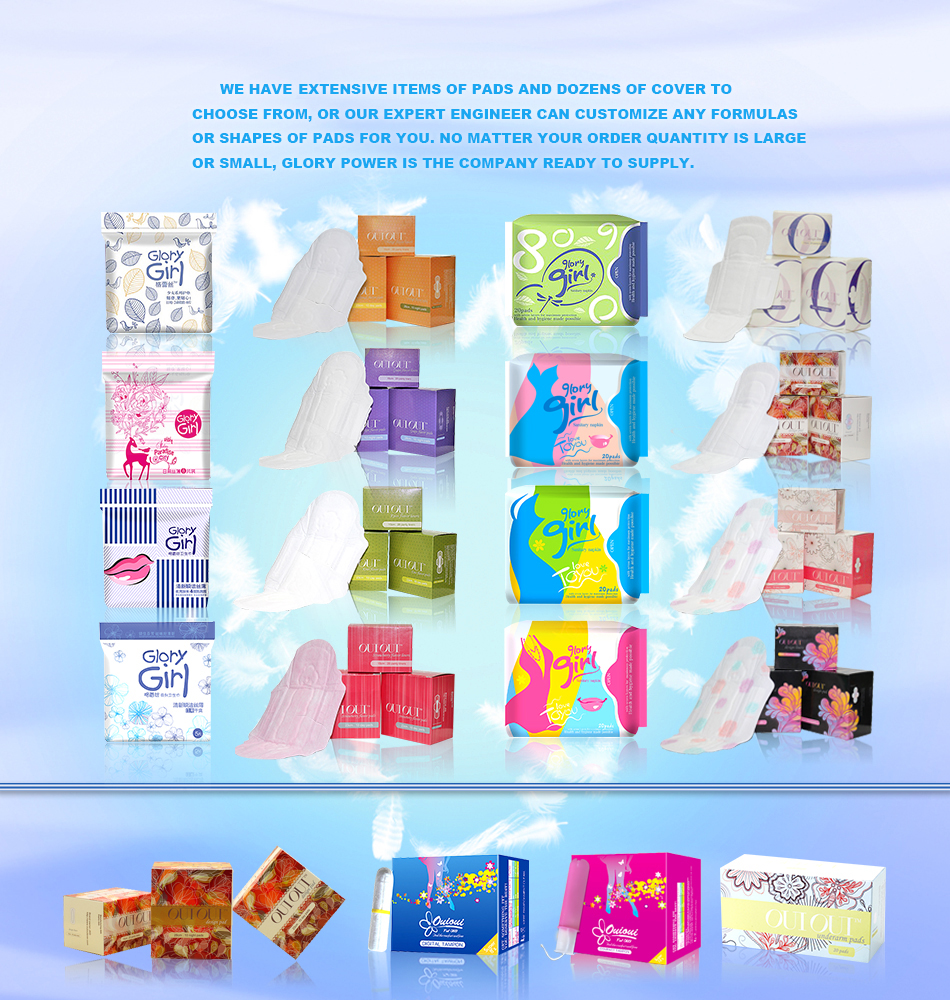 (3) Capacity

(4) Active Innovation
From ordinary thick fluffy pad to ultra thin breathable pad, from continuous improved fabric and appearance of the pad to herbal extracts, anion, bamboo charcoal widely used in Sanitary Pad, from ordinary pad to organic pad, from non sterile to 100% sterile medical grade, Glory Power always explores new opportunities and walks in the forefront of reform.
From start to finish; from conceptualization to innovative finished product; whatever vision you have for your business, Glory Power can and will make it a reality.